The Right Honourable Stephen Harper served as Canada's 22nd Prime Minister from 2006 to 2015. Today, as Chairman and CEO of Harper & Associates Consulting, he spends most of his time working in the financial services, technology and energy sectors.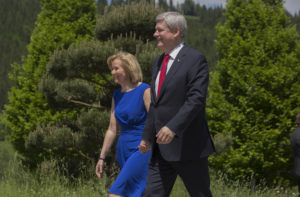 In 2004, Harper co-founded the modern Conservative Party of Canada and won three successive national elections, in 2006, 2008, and 2011. A strong advocate for free trade and open markets, Harper led a government that focused on pragmatic, growth-oriented economic policies and results-driven social policy.
Under his leadership, Canada reduced federal taxes to their lowest level in 50 years, created 1.3 million new jobs, balanced the budget while making critical investments in health care and infrastructure, attracted new investment and fostered innovation.
During his time in office, Harper oversaw historic trade negotiations to expand Canada's commercial relationships including: the conclusion of the Canada-Europe Trade Agreement, the Canada-Korea Free Trade Agreement, the Canada-Colombia Free Trade Agreement, a modernized Canada-Israel Free Trade Agreement, and Canada's entrance into the Trans-Pacific Partnership. Additionally, he served as an ally to developing economies, encouraging market liberalization in jurisdictions such as Colombia and Tanzania through bilateral investments, trading relationships and development assistance.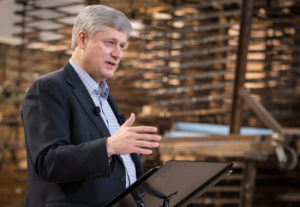 Harper implemented a clear and principled foreign policy. He oversaw Canada's involvement in a series of complex conflicts in Afghanistan, Libya and Iraq, and stood staunchly by besieged allies Israel and Ukraine. Under his leadership, Canada was an unwavering supporter of the State of Israel's right to exist, and Prime Minister Harper became the first Canadian Prime Minister to address the Knesset.
Harper also oversaw a dramatic deepening of relations with India, and developed a strategic and balanced relationship with successive Chinese leaders while refusing to shy away from raising issues of human rights and trade imbalances. As the host leader of the 2010 G-20 summit in Toronto, and as an economist by training, Prime Minister Harper helped shape financial reform frameworks, implemented a sustainable approach to fiscal stimulus, and led the call for open markets and pragmatic, growth-oriented economic policy.
Harper also applied a pragmatic and results-oriented approach to international development challenges. He is known for his leadership in securing nearly $11 billion in new funding under the Muskoka Initiative to improve the health of mothers and children in the world's most impoverished nations.
In addition to his commercial work, Harper currently serves as the Chairman of the International Democrat Union, the global alliance of more than 80 centre-right political parties. He is also Chairman of the Friends of Israel Initiative, a global network of current and former high office holders committed to opposing efforts to delegitimize the State of Israel and its right to live in peace within safe and defensible borders.
Prime Minister Harper resides in Calgary. He and his wife Laureen have two children, Benjamin and Rachel.